Churan Candy Making Machine (Low Cost)
Beware from duplication and cheater.
Nobody our Ex-partner
---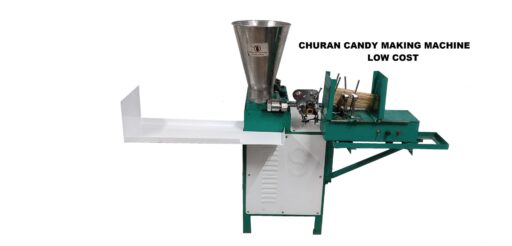 Churan Candy Making Machine (Low Cost)
Machine Speed
:
90 Stroke/minute
Soundless Gearbox with hardened gears & grounded Shafts.
Production
:
up to 200 kg /8Hr. (Depends on Materials Quality)
Auto stop when material will finish, raw stick finish and stick not pass from die
Main Motor
:
1.5 HP Single Phases.
Length of incense
:
8" to 9"
Machine Weight
:
@125 Kg.
Free
:
Material mixing formula, Training of machine operating and general maintenance at our Surat factory.
Warranty
:
9 months in Main motor, Ac drive, Gear box, DC Card & Slider.
This machine designed by our Engineer.
This machine is produced by our technical staff.
Easy t operating & low maintenance.
Made in india
We Are India's One Of The Leading Manufacturers, Exporters, Suppliers.