AUTOMATIC PAINTING ROLLER CUTTING MACHINE
Beware from duplication and cheater.
Nobody our Ex-partner
---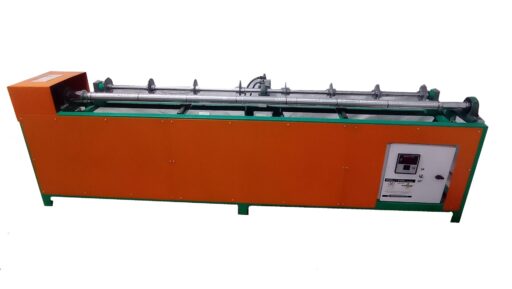 AUTOMATIC PAINTING ROLLER CUTTING MACHINE
Machine Speed
:
600 to 1200 nos / Hrs. (Depends on painting roller & operator)
• Suitable for: PVC pipe dia. 40.4 mm, ID 38 mm and with fabric dia. 56.4 mm only.
Fabric thickness: 6 to 12 mm.
Loading capacity: 1 pipes of dia. 56.4 mm and length of 64 inch.
Required labor: 1 Operator
Required power for machine: 1.0 HP 1 PHASE
Main Motor
:
Compressor: 1.5 HP(By client's scope)
Length of incense
:
7 and 9 inches.
Machine Weight
:
@150 Kg.
Free
:
Training of machine operating and general maintenance at our Surat factory.
Warranty
:
9 months in Timer & Main motor
Electric control panel: with Push button and timer.
Operator have to insert roll on holding shaft and put at machine center.
Operator have to push the button to start the machine.
Made in india
We Are India's One Of The Leading Manufacturers, Exporters, Suppliers.