Incense Stick Making Machine Soham 100
Beware from duplication and cheater.
Nobody our Ex-partner
---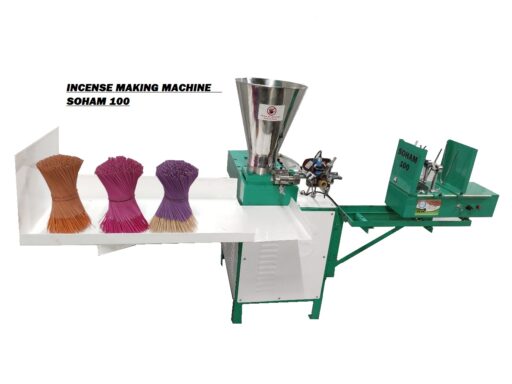 Incense Stick Making Machine Soham 100
Machine Speed
:
275Stroke/minute
Indian Manufacturer & Exporter.
Production
:
100 Kg. Dry/8 Hr.(Depands on stick Quality).
Hardened Gears & grounded shaft.
Heavy and Rigid Structure.
Standard motor 1.5 H.P. (optional 2.0 HP chargeable.)
Drive :1.5 HP (with 1-year free replacement warranty)
Main Motor
:
1.5 HP Single Phases.(Optional 2.0 HP)
Length of incense
:
8" to 12"
Machine Weight
:
125 Kg.
Free
:
Free Bowl cleaning rod, rocket rod, and machine manual.
Warranty
:
9 months in Main motor, Ac drive, Gear box, DC Card & Slider.
Soundless and Smooth Working
Spares available at any time.
long life
Full technical support after sales.
We Are India's One Of The Leading Manufacturers, Exporters, Suppliers.