Agarbatti Making Machine Soham 50
Beware from duplication and cheater.
Nobody our Ex-partner
---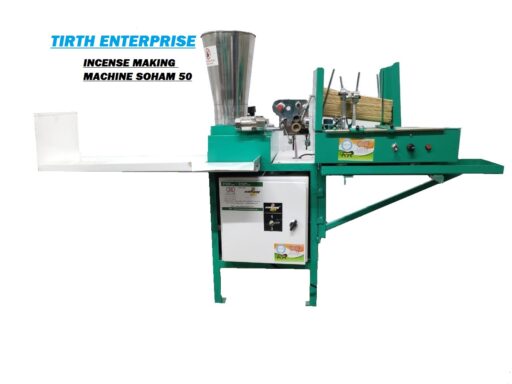 Agarbatti Making Machine Soham 50
Machine Speed
:
200 Stroke/minute
Gearbox regular quality.
Production
:
60 kilos/8 Hr. (depends on raw material)
Soundless Gearbox with hardened gears & grounded Shafts.
Air-cooled Bowl housing.
Problem less DC Motor, DC Gear motor, and Sensor. (Compare to others)
Auto stop when material was finished, raw stick finish and stick not pass from die
Main Motor
:
1HP three phase/single phase.
Length of incense
:
8" to 9"
Machine Weight
:
100 kg
Free
:
Material mixing formula, contacts of raw material supplier,
Training of machine operating and general maintenance.
1 tool set, Cleaning rod, Rocket rod, machine manual.
Warranty
:
9 months in Main motor, Ac drive, Gear box, DC Card & Slider.
Smooth Running.
This Feeder is produced by our technical staff. (Not import from other country.)
Easy to operating & low maintenance.
Made in India
We Are India's One Of The Leading Manufacturers, Exporters, Suppliers.