Automatic Incense Dipping Machine (Online)
Beware from duplication and cheater.
Nobody our Ex-partner
---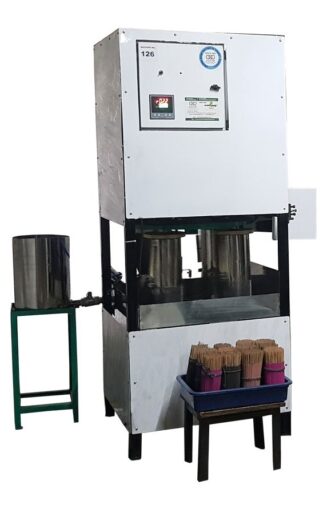 Automatic Incense Dipping Machine (Online)
Machine Speed
:
3000 Kg./8 Hour
Perfume auto refilling ayatem
Dipping Range. 3.00 to 8.00 (Adjustable).
Dipping Hight : half dipping & full dipping.
Req. Power : 2 HP
Production Coast : Maximum 0.2 Rs.(Excluding Perfume & DEEP).
Main Motor
:
1.5 Hp with gear box
Length of incense
:
8" to 10"
Machine Weight
:
200 Kg.
Free
:
Training of machine operation and general maintenance.
1 tool set.
Warranty
:
9 Months
Electric control panel.
This machine is produced by our technical staff.
This machine designed & Copyright by our Engineer.
Not import from another country.
We Are India's One Of The Leading Manufacturers, Exporters, Suppliers.